The Bases
Most of the US bases are known and referred to as 'RAF', [for example RAF Menwith Hill, RAF Lakenheath, RAF Feltwell] whereas in reality this is not so.
At the large US bases (eg NSA Menwith Hill) there will be a US Commander in post who is in firm control and occupation. In other cases, at a base like 'RAF' Feltwell, for example there are no RAF staff present and it is the US Commander who decides who has access to the base – as does the US Commander at all US bases.
The land occupied by the US Visiting Forces and their Agencies is in the possession of the Secretary of State for Defence. All the buildings and infrastructure are owned by the US authorities. On many of the bases they are a complete 'US entity' with a school, leisure faclities, commissionary (supermarket), a medical centre, church and housing for US families and military.
Where there is an RAF presence there may be a contingent of staff, with an RAF Liaison officer ostensibly being in charge. There may be a Ministry of Defence Police Agency (MPDA) presence too. The MPDA have limited powers and are paid for, and under the operational control of, the US authorities.
"US Military Bases Abroad"
This is a directory listing at Oxford Bibliographies Online of a number of multi-country surveys and overviews of the US bases around the world.
See the directory at: http://oxfordbibliographiesonline.com/view/document/obo-9780199756223/obo-9780199756223-0034.xml
---


Croughtonwatch
Croughtonwatch is a website devoted to USAF/RAF Croughton (and Barford St. John), the USA's communications and surveillance base on the border of Oxfordshire and Northamptonshire. Croughton is part of a global system of electronic communications, control and surveillance that works on behalf of the US military and intelligence establishment; in turn it is an active part of both US foreign policy, the military projection of American power across Europe and the Middle East – and as part that, the increasing use of electronic surveillance and unmanned weapons systems (aka. 'drones'). The site brings together information about what Croughton is/does, those working to highlight its role in conflict and the use of advanced surveillance and weapons technology, and recent reports/articles which highlight the role of Croughton.
---
US Department of Defense
BASE STRUCTURE REPORT for the fiscal year 2011
A Summary of DoD's Real Property Inventory:
Read here: www.acq.osd.mil/ie/download/bsr/bsr2011baseline.pdf
---
Mission Creep
Bush and Rumsfeld may be history, but America's new global footprint lives on.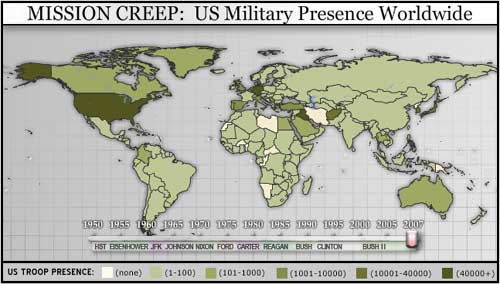 Interactive map highlighting military presence worldwide: Click the map to use.
© Mother Jones www.motherjones.com/military-maps
Recent news:
America's Global Military Presence: Mission Creep
Center for Research on Globalization – Montreal,Quebec,Canada
It has helped US troops quietly penetrate new territory at a time when America's vast base network has run into fierce public opposition around the globe,…
See all stories on this topic
Where are the bases?
Officially there are 10 US bases in England – however many RAF bases have a US military and agency presence.
The ten US bases: Where are the bases
Department of Defense. Fiscal Year 2008
Base Structure report
…… RAF Lakenheath. Lakenheath … RAF Menwith Hill. Harrogate …
Base structure report fiscal year 2008