Articles
Murray-Ryan Budget Dumps 51.4% into Military — Happy Human Rights Day!
WarIsACrime.org – by David Swanson – December 10, 2013
"In fiscal year 2014, defense discretionary spending would be set at $520.5 billion, and non-defense discretionary spending would be set at $491.8 billion."
This is an unbelievable outrage for Congress to churn out on International Human Rights Day while numerous members of Congress were off in South Africa claiming to support the use of nonviolence to effect change in the world.How will the U.S. public react once the media lays bare this incredible proposal? Here's enough money to work wonders in green energy, infrastructure, actual humanitarian aid, education, and many other areas all combined. This is an amount of money very difficult to comprehend, and it's being dumped into such unpopular projects as the ongoing war on Afghanistan.
One has to wonder how our Nobel Peace Prize laureate, "ender" of the war, President Barack Obama might respond should Congress send him such a budget. I'm sure he'll be hard-pressed not to assume he's dreaming when he reads these numbers. I'm sure …
Oh, wait. What?
Obama wanted 57% to go to militarism?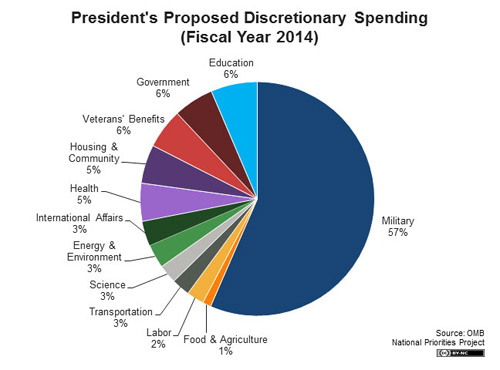 Read on: http://warisacrime.org/content/murray-ryan-budget-dumps-514-military-happy-human-rights-day
Nelson Mandela: Rest in Peace, Dear Friend
The Campaign for the Accountability of American Bases (CAAB) is very sad to hear about the death of Nelson Mandela. He was an extraordinary man, an inspiration to millions of people round the world, a wonderfully humble and forgiving man who brought so much good to the world. Our thoughts and prayers are with his family and the South African people.
---
Nelson Rolihlahla Mandela
Born July 18, 1918. Died December 5, 2013.
Rest in Peace, dear friend
Nelson Mandela, a wonderful man who inspired billions of people throughout our world, has died in South Africa. In the spirit of Gandhi and Martin Luther King, Jr., Nelson Mandela used the power of non-violent protest to change our world, and through the love of his huge heart ended the tragic South African system of apartheid.
Mandela served 27 years in prison, first on Robben Island, and later in Pollsmoor Prison and Victor Verster Prison. He served as President of South Africa from 1994 to 1999. Mandela was the first black South African to hold the office, and the first elected in a fully representative, multiracial election. His government focused on dismantling the legacy of apartheid through tackling institutionalized racism, poverty and inequality, and fostering racial reconciliation.
Mandela's focus on restorative justice rather than punishment serves as a model of effective healing to our world. He established the Truth and Reconciliation Commission in 1995, and used it to heal the wounds of decades of brutal racism and depravation in South Africa.
The following poem, written by Marianne Williamson, is often mistakenly attributed to Nelson Mandela. While he did not write it, this wonderful verse perfectly captures Mandela's approach to life.
Our Deepest Fear
By Marianne Williamson
"Our deepest fear is not that we are inadequate. Our deepest fear is that we are powerful beyond measure. It is our light, not our darkness that most frightens us. We ask ourselves, Who am I to be brilliant, gorgeous, talented, fabulous? Actually, who are you not to be? You are a child of God. Your playing small does not serve the world. There is nothing enlightened about shrinking so that other people won't feel insecure around you. We are all meant to shine, as children do. We were born to make manifest the glory of God that is within us. It's not just in some of us; it's in everyone. And as we let our own light shine, we unconsciously give other people permission to do the same. As we are liberated from our own fear, our presence automatically liberates others."
Sent by: From War To Peace
How MPs and peers took on May and spy agencies over 'snoopers' charter'
Anger at failure of Home Office and security services to reveal extent of GCHQ's data harvesting operations
The Guardian – By Alan Travis – October 16, 2013
If anybody thought that putting Lord Blencathra, a former minister in Michael Howard's Home Office, in charge of the pre-legislative scrutiny committee of Theresa May's "snoopers' charter" bill would provide a soft touch, then they were sorely mistaken.They would have done well to pay attention to the peer's first statement as chairman of the joint committee of MPs and peers, in which he pointed out that the draft communications data bill would affect everyone in some way.
"We all email, use websites and mobile phones and this committee wants to ensure the draft bill will ensure a sufficient balance between an individual's privacy and national security. We intend very thoroughly to examine the government's proposals," Blencathra said, launching the five month inquiry in July 2012.
To the surprise of some observers the MPs and peers proceeded to do just that. …
? ? Show more ? ?
---
Click here for archived articles