US Air Force's X37B 'Secret Space Plane' Marks Two Mysterious Months In Orbit
Posted on
February 25th, 2013
Huffington Post
By Michael Rundle
February 22, 2013
The US military has had a robotic space plane in orbit around Earth since December – and no one knows what it's doing.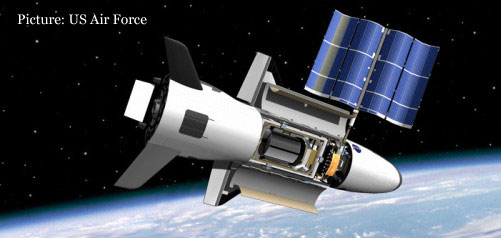 The US Air Force's X-37B space craft is a reusable, currently unmanned vehicle similar – though smaller – than the retired Space Shuttle.
The Boeing-built X-37B is about 30 feet long, 15 feet wide, weighs 11,000 pounds and can carry about the same load as a delivery van.
It took off from Cape Canaveral on 11 December, carried by an Atlas V rocket.
It has now been in space for more than two months, and shows no signs of returning.
It is the same vehicle which spent 225 mysterious days in space in 2010 before landing automatically in California – and as such marks the first time the US Navy has successfully reused space hardware. …
Read on, + more pictures: www.huffingtonpost.co.uk/2013/02/22/us-air-forces-x37b-secret_n_2739384.html